Louis M. Weiner, MD
Medical Oncologist/Director, LCCC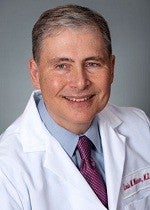 Dr. Weiner is the director of the Lombardi Comprehensive Cancer Center, a position he has held since 2008. He also is the chair of the Department of Oncology at Georgetown University, associate vice president of Georgetown University Medical Center and clinical director of Cancer Services at MedStar Georgetown University Hospital.
Dr. Weiner is responsible for the operation and development of Lombardi, including its research, clinical and educational missions. To further the center's clinical mission, Dr. Weiner oversees the MedStar Georgetown Cancer Network in the metropolitan Washington area. Dr. Weiner is known for his laboratory and clinical research focusing on new therapeutic approaches that mobilize the patient's immune system to fight cancer using antibodies and other progressive therapies.
Professionally, Dr. Weiner is an active member of the American Society of Clinical Oncology and the American Association for Cancer Research (AACR), and a founding leader of AACR Cancer Immunology Working Group. He also serves as Chair of the National Cancer Institute's (NCI) Board of Scientific Counselors and is a member of the NCI Clinical Trials Advisory Committee, and the Advisory Panel of the National Institutes of Health (NIH) Center for Scientific Research, which administers NIH research grants. He is senior editor for the journal Cancer Immunology Research, and associate editor for the journals Frontiers in Cancer Molecular Targets and Therapeutics and Journal of Immunotherapy for Cancer.
Prior to joining Georgetown Lombardi, Dr. Weiner served as chairman of the Medical Oncology Department and vice president for Translational Research at Fox Chase Cancer Center in Philadelphia, PA. He held an endowed chair in medical science and was the driving force behind developing an immunotherapy laboratory and clinical programs, as well as establishing the Center's medical oncology fellowship program. Dr. Weiner also served as professor in the Department of Medicine at Temple University School of Medicine.