Ekaterini (Katerina) Tsiapali, MD, FACS
Breast Surgeon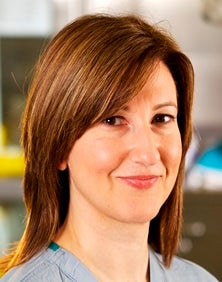 Katerina Tsiapali, MD, FACS, an expert in breast surgical oncology, is the Director of the MedStar Breast Health Program at MedStar Southern Maryland Hospital Center.
Dr. Tsiapali is a noted researcher in the field of breast surgical oncology and has published and presented widely in academic medical journals and at conferences. She is a fellow of the American College of Surgeons and has served as the president of the Rhode Island Medical Women's Association.
Her main area of clinical focus is breast surgical oncology, with a particular emphasis on nipple-sparing mastectomy, prophylactic mastectomy, familial/genetic breast cancer risk, oncoplastic breast surgery, and breast cancer survivorship with a special interest in fertility preservation for young breast cancer patients.
Previously, Dr. Tsiapali served as clinical assistant professor of surgery at the Warren Alpert Medical School of Brown University in Providence, RI. She received her medical degree from the National University of Athens (Greece) Medical School in 1995 and did her residency and fellowship training both in Greece and the United States.