Eleni Tousimis, MD
Breast Surgical Oncologist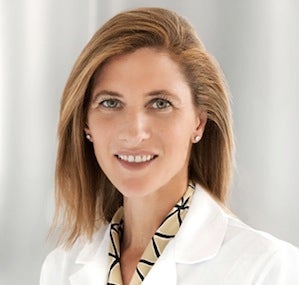 Eleni Tousimis, MD, is site director of the MedStar Breast Health Program at MedStar Georgetown University Hospital, Director of the Betty Lou Ourisman Breast Health Center, Chief of breast surgery, and Breast Oncology Fellowship director at MedStar Georgetown. She is a renowned board-certified breast surgical oncologist with expertise in minimally invasive breast cancer surgery.
Dr. Tousimis is recognized for her pursuit of new initiatives in breast cancer management, including nipple-sparing mastectomy, partial breast radiation and anesthetic techniques for breast surgery. She has over 15 years of experience in nipple-sparing mastectomy. She is known as a pioneer in this technique and teaches it nationally. She uses a bra-line incision whenever feasible, barely leaving a visible scar. Her attention to cancer cure, cosmetic outcome, and pain control during and after surgery has led to improved recovery, aesthetics, and outcomes for her patients.

Dr. Tousimis joined MedStar Georgetown in 2012. A native of Washington, D.C., she returned to the area after training at Memorial Sloan Kettering Cancer Center and serving as an Associate professor of Surgery and Associate Program Director of Surgical Education at Weill Cornell, New York Presbyterian Hospital for nearly ten years.

She has received numerous awards and holds leadership positions in several professional societies, including President of the American Medical Women's Association in 2014. She was also selected by Castle Connolly Guide Top Doctors in the New York Metro Area in 2009-12, the Patients' Choice Award in 2011 for New York's favorite doctor, New York's Super Doctors, Top Doctor in New York by New York Magazine, Washingtonians Top Doctors 2013-2016, and US News and World Report as America's Best Doctors. She was also recognized by the City of New York for her high quality care and compassion toward her patients. Known for her compassion and respect for her patients, Dr. Tousimis was chosen by the Dali Lama in 2016 to be his personal physician when he visits Washington D.C.