Kenneth Tercyak, PhD
Behavioral Scientist/Child Health Psychologist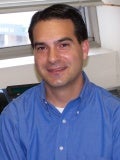 Kenneth Tercyak, PhD is a Professor in the Departments of Oncology and Pediatrics at the Georgetown University School of Medicine. At the Lombardi Comprehensive Cancer Center, Dr. Tercyak serves as Co-Leader of the Cancer Prevention and Control research program in the Division of Population Sciences. He is a member of the Fisher Center for Hereditary Cancer and Clinical Genomics Research, and a Senior Scholar at the Georgetown University Center for Child and Human Development.
A clinical health psychologist by training, Dr. Tercyak is a Fellow of the American Psychological Association (Divisions 38, 54) and Society of Behavioral Medicine, and holds an appointment in pediatric psychology at MedStar Georgetown University Hospital.
Dr. Tercyak's research focuses on biobehavioral aspects of cancer risk, prevention, and intervention including public health genomics, tobacco prevention and control, and survivorship. His work in familial cancer examines health communication, decision support, and outcomes of genetic counseling and genomic testing. Dr. Tercyak's work in tobacco control focuses on primary prevention, behavior change, high-risk special populations, and cessation. His work in survivorship addresses modifiable cancer risks and outcomes among children treated for cancer.
Dr. Tercyak has been supported by the NIH throughout his career. He completed a mid-career award focused on basic behavioral research in cancer control, and was the recipient of support from the Hyundai Hope on Wheels research program for improving the lives of children surviving with cancer.
Dr. Tercyak is involved with a research and education partnership with the University of the District of Columbia for cancer control and health disparities training among minority scientists, a DC-wide collaborative for tobacco prevention-control research and education, and a cross-campus initiative to integrate knowledge in child health and human development to improve outcomes.
With over 100 peer-reviewed publications, Dr. Tercyak is the editor of a handbook (Springer) on public health genomics and family medicine. He served as Associate Editor for Prevention Science at the Journal of Pediatric Psychology (Oxford) and an Associate Editor at Health Psychology (American Psychological Association). He is now a Senior Associate Editor at Translational Behavioral Medicine (Oxford) and a member of several editorial boards.
Dr. Tercyak has served on study sections of the Risk, Prevention, and Health Behavior Integrated Review Group at the NIH and was a standing member of its Behavioral Medicine committee. He is a former member of the psychosocial review groups for the American Cancer Society, the Komen Foundation, and several international grant agencies. Dr. Tercyak recently completed his term as Chair of the NIH health behavior fellowships study section, and is a senior faculty mentor at Georgetown University School of Medicine.
At Georgetown University, Dr. Tercyak teaches in the areas of child health and human development, public health psychology, social/behavioral science, and cancer prevention. He is a member of the Office of the Provost's Formation x Design team for undergraduate education. Dr Tercyak is a past co-chair of the medical center's Research Committee, a former member and chair of several Strategic Planning Initiative committees, and was an elected member of the Medical Center Caucus of the Faculty Senate (Basic Science). He now serves on the GUMC MedStar Scientific Council.