Reem Saadeh-Haddad, MD
Clinical Geneticist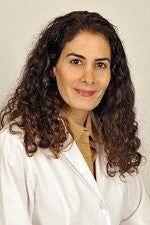 Reem Saadeh-Haddad, MD is an Associate Professor in the Department of Pediatrics at Georgetown University and in the Department of Oncology at Sibley Memorial Hospital. She is board certified in medical genetics and works to provide clear, clarified communication to patients about the practice of cancer genetics counseling. Dr. Saadeh-Haddad is affiliated with Sibley Memorial Hospital and Georgetown University Hospital.
Dr. Saadeh-Haddad has an expertise in cancer genetics. Her clinical interests focus on cancer genetics and dysmorphology.
Dr. Saadeh-Haddad graduated from Georgetown University School of Medicine, completed her pediatric residency at New York University and her clinical genetics fellowship at Johns Hopkins Hospital. Extending from her extensive clinical experience in genetics, Dr. Saadeh-Haddad's interests include dysmorphology, developmental delay, congenital anomalies, and pediatric and adult cancers.