Arnold L. Potosky, PhD
Health Services Researcher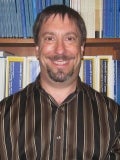 Arnold L. Potosky, MHS, PhD, is a Professor in the Department of Oncology at Georgetown University Medical Center, and is the Director of Health Services Research (HSR) in the Cancer Prevention and Control Program at the Lombardi Comprehensive Cancer Center (LCCC). Dr. Potosky conducts health services research to improve the quality of cancer care in the US population. He has conducted multiple studies investigating the use of anti-cancer therapies in general clinical practice and their effects in terms of survival and serious adverse events such as treatment-related cardiotoxicity. He continues to conduct research describing the impact of cancer treatments on symptoms, function and quality of life throughout the trajectory of cancer survivorship.
Dr. Potosky earned his Ph.D. in health services research from John Hopkins University in 1994, and worked at the National Cancer Institute from 1987-2008, where he worked on creating a national research program in cancer-related health services and economics research. In the early 1990s, he co-led the development of the SEER-Medicare linked database that has served as a resource for over a thousand studies of cancer-related health care delivery, outcomes and costs since its inception. Dr. Potosky initiated the Prostate Cancer Outcomes Study (PCOS), a multi-center prospective comparative effectiveness study of 3,400 men to assess their quality of life after initial prostate cancer treatments. In 2001 Dr. Potosky led the Cancer Care Outcomes Research and Surveillance Consortium (CanCORS), a multi-center national study of the quality of cancer care in 10,000 colorectal and lung cancer patients.
At Georgetown, he has continued to focus his work on access to cancer care, disparities, effectiveness, and patient-reported outcomes. He leads a team of 3 other faculty members at Lombardi who possess complementary skills in epidemiology, statistics, health economics, pharmacology, decision analysis, and psychometrics. His team is conducting studies that investigate the use, safety and effectiveness of cancer therapies, and studies that use patient-reported outcomes to document decrements in care and guide clinical practice.
Dr. Potosky has published more than 150 peer-reviewed biomedical manuscripts. He has advised national cancer research, professional, and policy organizations including the American Cancer Society, the American College of Surgeons, the Institute of Medicine, Cancer Care Ontario, the HMO Cancer Research Network, and the Brookings Institution Engelberg Center for Health Care Reform.