Paula R. Pohlmann, MD, MSc, PhD
Medical Oncologist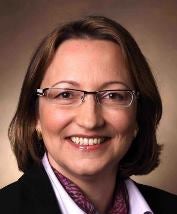 Paula R. Pohlmann, MD, PhD, is a board-certified medical oncologist with more than 20 years of experience in cancer treatment and research. She joined the Lombardi Comprehensive Cancer Center (LCCC) in 2013 as an Assistant Professor of Oncology. In her clinic at LCCC, Dr. Pohlmann treats patients with breast cancer, and also conducts phase I, II and III clinical trials involving any malignancy, in particular breast, gastrointestinal and gynecologic.
The recipient of many grants focused on breast cancer, gynecological cancer, molecular targets and immunotherapy, Dr. Pohlmann has published extensively. She currently leads several clinical trials developing new diagnostic biomarkers and therapies.
Dr. Pohlman graduated from the Universidade Federal do Rio Grande do Sul in Brazil, receiving additional training in Hematology-Oncology at Vanderbilt University. Her area of clinical expertise is in breast cancer, including new diagnostics and drug development, translational research, and the role of monoclonal antibodies.