George K. Philips, MBBS, MD, MPH, FACP
Hematologist/Medical Oncologist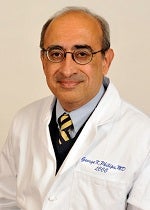 George K. Philips, MBBS, MD, MPH, is an attending physician specializing in genitourinary oncology at MedStar Washington Hospital Center (MWHC), MedStar Georgetown University Hospital (MGUH), and Georgetown Lombardi Comprehensive Cancer Center. In addition to his clinical responsibilities, he is an associate professor of medicine, Hematology-Oncology Division, Georgetown University Medical Center.
His MBBS degree is from Grant Medical College, Bombay University, Mumbai, India. He then earned a medical degree from Christian Medical College, Ludhiana, India. He completed a residency in general medicine and a fellowship in hematology-oncology at the University of Colorado Hospital, Denver. His Master of Public Health degree is from Harvard School of Public Health, Boston. He is board certified in internal medicine, medical oncology and hematology. He has an interest in hereditary prostate cancer genetics and following men with inherited risks for prostate cancer
Dr. Philips leads the genitourinary medical oncology program at MWHC and manages patient enrollment for the clinical trials associated with the program. He is chair of the MedStar Health Research Institute-Georgetown University Oncology Institutional Review Board Committee, which works to protect patients participating in cancer clinical trials across the MedStar Health Network.
At Georgetown University Medical Center, he serves as vice-chair of Faculty Development and Subspecialty Training Programs in the Department of Medicine. As director of Mentoring for the MGUH Department of Medicine, he collaborates to foster an environment conducive to academic success for a diverse faculty body composed of more than 80 junior and midlevel members.
His research and writing has been widely published. He is a fellow of the American College of Physicians, and he is a member of the ASCO. His honors include a Best Teacher of the Year Award from the Hematology-Oncology Division, MGUH.