Jeanne Mandelblatt, MD, MPH
Physician & Behavioral/Population Scientist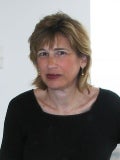 Jeanne Mandelblatt is a tenured Professor in the departments of Oncology and Medicine. Prior to her appointment as Associate Director for Population Sciences for Lombardi Comprehensive Cancer Center (LCCC) in 2008, she served as Program Leader of the Cancer Control (CC) Program from 1999 to 2008.
Dr. Mandelblatt is a nationally recognized cancer control scientist with more than two decades of health services, health outcomes, cancer epidemiology, and cancer and aging research experience. Her scholarly research focuses on age and race/ethnicity-related disparities in cancer care and outcomes. In 2012, her grant funding was over $3 million, including several R01s. Dr. Mandelblatt serves as the lead of the CISNET Breast Working Group multi-investigator grant and has over 195 publications. In recognition of her accomplishments in research and mentorship, she has held a continuation of an NCI Senior Cancer Control Scientist Award [2002–2013].
In 2015, Dr. Madelblatt received the NCI Outstanding Investigator Award, with plans to use the $6.4 million grant to conduct population science research involving older cohorts of breast cancer survivors to investigate the relationship between cancer and aging.
Dr. Mandeblatt served on the founding Board of Directors of the District of Columbia Cancer Consortium, a nonprofit organization dedicated to the reduction of cancer in the Washington Metropolitan area through prevention, improved treatment, and research. Also adding to her work with the community, she co-chaired the Executive Committee that authored the District's first cancer control plan.
In addition, Dr. Mandelblatt was the PI of the initial grants totaling $1.5 million from the Avon Foundation to develop the Capital Breast Care Center for low-income residents in Washington, DC. As Associate Director, she identified and recruited Dr. Potosky (Professor, Cancer Prevention and Control Program) to create a formal research group devoted to cancer health services research. Also recruitment of Drs. Levy and Stanton to expand tobacco research. Both work closely with The Schroeder Institute for Tobacco Research and Policy of the American Legacy Foundation.