Bassem Haddad, MD
Cytogeneticist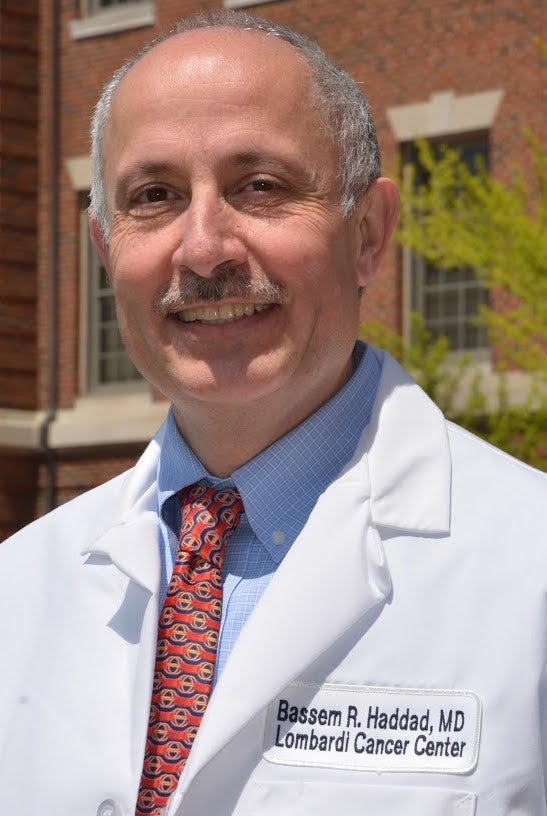 Dr. Haddad is a Professor of Oncology at Georgetown University, Lombardi Comprehensive Cancer Center, where he has been on the faculty since 1996. Since 2001, he has been the Director of the Tissue Culture Shared Resource at Lombardi. His laboratory focuses on the molecular cytogenetic studies of genomic aberrations and instability involved in genetic diseases, particularly cancer.
His three areas of research include identifying the genetic changes that are associated with the onset and progression of tumors and understanding their significance and implications. Molecular classification of tumors and identification of relevant tumor specific molecular markers provide valuable complementary information to their traditional morphological classification and provides further insight into the mechanisms of their onset and progression. The second area of his lab's work is in translational research, specifically developing molecular markers to improve early detection and diagnosis of cancer. Finally, in order to better understand the mechanisms of tumorigenesis, Dr. Haddad and his colleagues have initiated studies involving the characterization of chromosomal aberrations in mouse models of human tumors.
To achieve these research goals, his laboratory has established the most up to date molecular cytogenetic assays such as comparative genomic hybridization (CGH) (chromosomal and array CGH) and 24 color FISH by spectral karyotyping (SKY) to study both the human genome and the mouse genome. This is in addition to routine cytogenetic and conventional FISH studies that are performed. Dr. Haddad's molecular cytogenetic lab has activities that revolve around three interrelated themes: research, technology development, and teaching/training of students and fellows. It serves as a valuable resource for his own research and also facilitates research projects of other investigators at Georgetown and elsewhere through collaborations.
The lab also serves as an excellent education opportunity for undergraduate, graduate and medical students as well as clinical and research fellows for training and research at Georgetown University. In 2008, Dr. Haddad received inaugural funding from the Fisher Center for his study, "The Role of Interferon Regulatory Factor-1 (IRF-1) Loss in Familial Breast Tumors."