Kristi Graves, PhD
Behavioral Scientist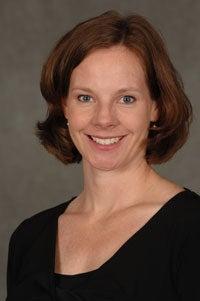 Kristi Graves, PhD, is a tenured Associate Professor of Oncology and is involved in the Cancer Prevention and Control Program. She received her Ph.D. in Clinical Psychology from Virginia Polytechnic Institute and State University and completed post-doctoral training at the University of Kentucky.
Dr. Graves has led a PCORI-funded project to test an intervention that aims to help Latina breast cancer survivors and their caregivers improve their quality of life. She is collaborating with Nueva Vida, Inc (Washington DC) and three other community organizations (two in New York and one in California) on this effort. Dr. Graves is also co-leading an R01-funded project to explore symptoms experienced by patients diagnosed with thyroid cancer who received radioactive iodine treatment.
In prior work, Dr. Graves investigated ways to inform people about genetic testing for genetic changes related to small increases in cancer risk. She is interested in translational research and research that improves cancer survivorship.
Her teaching spans both medical school and graduate courses in population sciences. She has served as a preceptor for the Patients, Physician & Behavior (IMSC-503-05) and Physician Patient Communication (IMSD501) courses with first year medical students since 2007. Dr. Graves's medical school teaching also includes significant involvement with the Mind-Body Medicine course since 2009. In collaboration with Ms. Nancy Harazduk (Course Director) and Dr. Aviad Haramati, Dr. Graves has contributed to research efforts related to the Mind-Body Medicine course. Dr. Graves serves as a Course Director for Tumor Biology 532, Principles and Practice of Behavioral Science in Cancer Control. This course informs students of the general principles, theory and applied practices involved in the field of cancer control and prevention at the individual and population levels.