Priscilla Furth, MD
Physician Scientist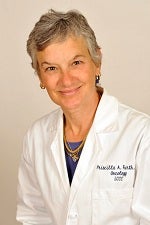 Dr. Furth is a physician-scientist who works in the areas of cancer genetics, prevention and survivorship. She is board certified in Internal Medicine and Infectious Disease. She serves as the Associate Dean for Faculty Development at the Georgetown University Medical Center (GUMC).
As an investigator Dr. Furth has published over 125 papers with more than 7300 citations. She is noted for expanding the range of genetically engineered mouse models for preclinical breast cancer research, bringing the tetracycline responsive gene expression system to transgenic mice, providing new approaches for investigation of salivary gland cancer and early work on p53-independent apoptosis and 3'UTR-mediated regulation of gene expression. NIH has funded this work for over 20 years with additional funding through DOD, KOMEN foundation, and industry. She currently serves as a charter member of the Basic Mechanisms of Cancer Therapeutics NIH Study Section with previous service on NIH, DOD and state-supported study sections since 1997. Over her career she has presented more than 150 invited talks.
Dr. Furth is committed to trainee, faculty and institutional development. Her service at Georgetown University includes chairmanships of the Faculty Development, Research, Research Dashboard, and Committee on Appointments and Promotions (CAP), memberships on the University Rank and Tenure and Tumor Biology Oversight Committees and directorship of the Growth Regulation Program Director in the Lombardi Comprehensive Cancer Center.
Prior to coming to Georgetown she was a member of the University of Maryland School of Medicine faculty where she founded an Adult AIDS Patient Care Program providing access to investigational therapies and medical, social and legal support for medically underserved HIV infected women and men in Baltimore. Her trainees range from undergraduates to junior faculty. Her former students now work in academia, government and industry within science, medicine and law.
Dr. Furth is a 2015 graduate of the Hedwig van Ameringen Executive Leadership in Academic Medicine Program. She received the 2010 Georgetown Women in Medicine Outstanding Achievement Award, the 2007 Noel Soderberg Evans Award, Washington DC for contributions to breast cancer research, the 1989 Specialist Award from University of Maryland Family Medicine Department, and the 1975 Eva A. Mooar Premium from Brown University. She was selected to be a World Class University faculty member at DanKook University in South Korea (2009-2014) and received an Alexander von Humboldt Fellowship (1992) and a National Research Council Associateship (1989). She holds three patents for her work targeting gene expression to living tissue using jet injection.
Dr. Furth is married, enjoys time with family, hiking and skiing, and playing the organ.