Ami A. Chitalia, MD
Hematologist and Medical Oncologist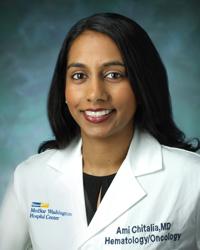 Ami Chitalia, MD, is a staff physician at MedStar Washington Cancer Institute. She is board certified in Internal Medicine, Medical Oncology, Hematology, and Hospice and Palliative medicine. Additionally, she is a member of the American Society of Hematology and the American Society of Clinical Oncology.
As a hematologist and medical oncologist at Washington Cancer Institute, Dr. Chitalia focuses on the treatment of breast cancer through the use of chemotherapy, endocrine therapy, and targeted novel therapies through clinical trials. She also specializes in symptom management and setting goals of care as they pertain to patients with an advanced or complicated diagnoses.
Dr. Chitalia received her medical degree from Tufts University School of Medicine. She then joined MedStar Georgetown University Hospital for residency in Internal Medicine before completing a one-year fellowship in Hospice and Palliative medicine at Mount Sinai Hospital. Dr. Chitalia then returned to Medstar Georgetown University Hospital to complete a three-year fellowship in Medical Oncology and Hematology before moving into her current position at the affiliated Medstar Washington Cancer Institute.
Her research interests include curriculum development for trainees focused on palliative care as it pertains to the field of oncology, the use of novel, targeted agents to fight breast cancer, and the study of health disparities related to breast cancer treatment.