Carla L. Fisher, PhD
Behavioral Scientist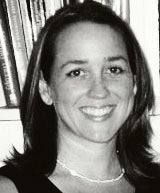 Dr. Carla L. Fisher is an assistant professor in the Center for Health & Risk Communication and Dept. of Communication at George Mason University where she mentors doctoral students and teaches graduate courses in family and health communication. She received her Ph.D. from The Pennsylvania State University with a focus on family & health communication and minor in gerontology. She was a National Institute on Aging (NIA) Pre-doctoral Fellow and invited to receive post-doctoral training in health behavior theory in the National Cancer Institute's (NCI) fifth Advanced Training Institute.
As a behavioral scientist, Dr. Fisher researches the centrality of family communication to health when coping with cancer and engaging in health promotion behavior. In 2006, she initiated the Mother-Daughter Breast Cancer Research Project (www.motherdaughterbreastcancer.com), which has been funded at the university, private, and federal levels and honored with national research recognition awards. She leads a team of scientists and practitioners in intervention-making research to help mothers and daughters enhance their communication while coping with and preventing the disease.
Dr. Fisher works closely with multiple medical institutions. Currently, she is lead investigator in a study with Mayo Clinic, with a special focus on psychosocial coping needs of daughters of diagnosed women. She also collaborates with Memorial Sloan-Kettering Cancer Center on research aimed at understanding the needs of high-risk mothers and daughters during genetic counseling for BRCA testing. Her work is published in peer-reviewed books and journals such as the Journal of Genetic Counseling and Health Communication, and she is compiling a book on mother-daughter communication and breast cancer for a health communication book series.